Biomedical and Biologically Motivated Technical Applications
Researchers:
Description
Currently, facial and body movements are better controlled and categorized by neural systems than any existing technical framework. Our lab studies the computational principles underlying the control and categorization of body movements in biological systems and transfers them to technical applications, e.g., in computer graphics, humanoid robotics, or biomedical engineering and rehabilitation, where modeling human movements is becoming increasingly important for technical success.
Current Projects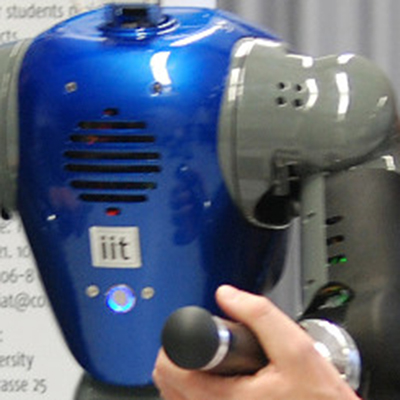 The control compliant robots in interactive tasks, or even in joint tasks with multiple interacting humans and robots is a challenging problem. It is adressed in the EC H2020 project COGIMON by a highly interdisciplinary approach, combining the expertise form groups in neuroscience and robotics engineering. One interaction scenario of this type is also the training of patients by playing an interactive ball game with a humanoid robot. We used biologically inspired algorithms for movement syntheses to control humanoid robots and for training of coordination skills in ataxia.
Generative probabilistic models of interactive and stylized human motion are applicable in a variety of fields. On the technical side, such models are useful in computer animation, or motion recognition and emotional feature analysis. This work was done partly as parts of the EC FP7 projects TANGO.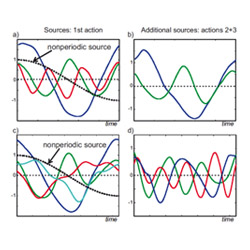 Sequential goal-directed full-body motion is a challenging task for humanoid robots. An example is the coordination of bipedal walking with fast upper body movements.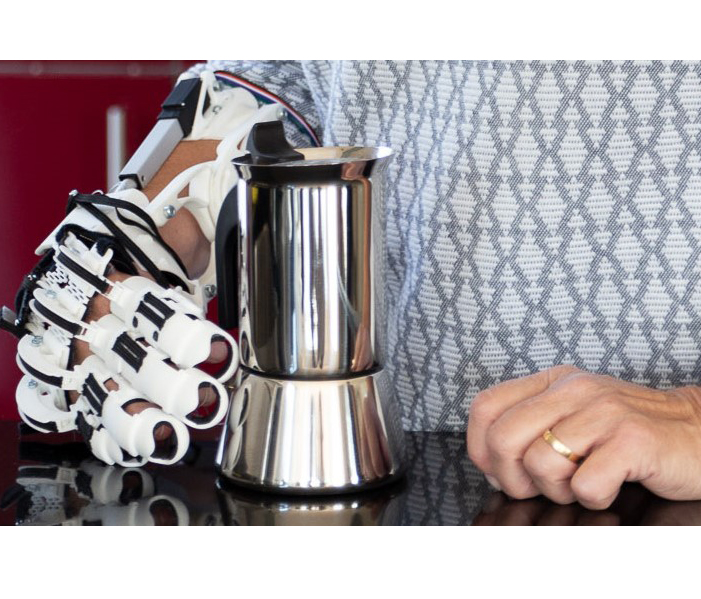 Robots driven by signals from the nervous system represent a promising approach to improving the autonomy and the quality of life of people with disabilities, following, for instance, stroke or spinal cord injury. The aim of the KONSENS-NHE project is the development of a non-invasive, neurally-controlled exoskeleton that may be used in everyday life to compensate for the loss of hand function in people with disabilities.
Finished Projects
The core of this artificial cognitive visual system is a dynamic hierarchical architecture, inspired by computational models of visual processing in the brain. Information processing in Smart-Eyes will be highly efficient due to a multi-scale design: Controlled by the brain-inspired model, the active cameras will provide a multi-scale video record of salient events.
Locomotion in complex situations is a difficult problem in motor control that is unresolved for humanoid robots. We investigate and model how the locomotion behavior of humans is organized for complex locomotion tasks and try to transfer relevant control principles, especially at the level of cognitive control, to humaoid robots. This work is realized within the EC FP7 project KOIROBOT.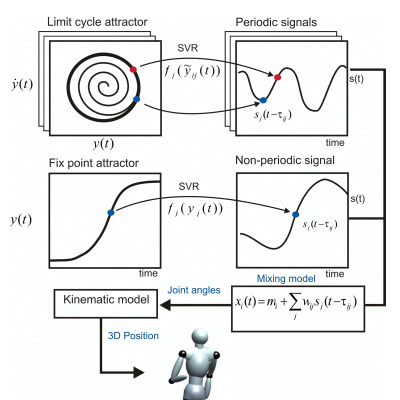 The efficient parameterization of complex human movements is a core problem of modern computer animation. For the synthesis of animations with a high degree of realism learning-based approaches have become increasingly popular.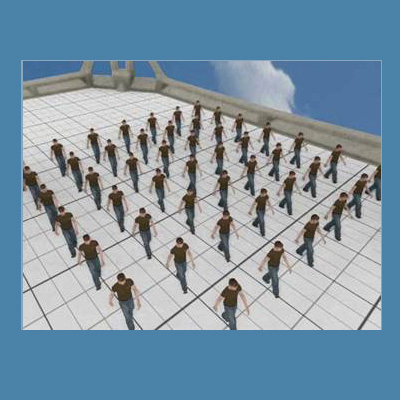 An important domain of the application of dynamical systems in computer animation is the simulation of autonomous and collective behavior of many characters, e.g. in crowd animation.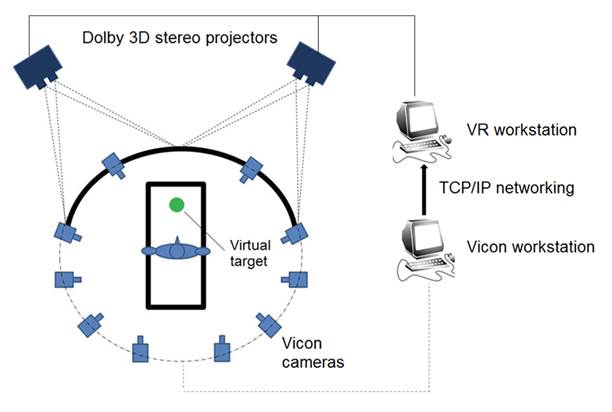 In order to provide a highly controlled setup for the recording of arm movements that are coordinated with walking movements, we have developed a novel virtual reality setup combining motion capture using a VICON system and stereoscopic presentation using a setup with Dolby 3D stereo projectors.  
Publications
Taubert, N.
&
Giese, M. A
. (2021).
Hierarchical Deep Gaussian Processes Latent Variable Model via Expectation Propagation
.
Artificial Neural Networks and Machine Learning – ICANN 2021 30th International Conference on Artificial Neural Networks, Bratislava, Slovakia, September 14-17, 2021, Proceedings, Part I. Springer, Berlin
.
[More]
Lee, J., Huber, M. E., Chiovetto, E.,
Giese, M. A.
, Sternad, D. & Hogan, N. (2019).
Human-inspired balance model to account for foot-beam interaction mechanics
.
2019 International Conference on Robotics and Automation (ICRA) Palais des congres de Montreal, Montreal, Canada, May 20-24, 2019
, 1970-1974.
[More]
Mohammadi, P., Malekzadeh, M. S., Kodl, J.,
Mukovskiy, A.
, Wigand, D.,
Giese, M. A.
et al. (2018).
Real-Time Control of Whole-Body Robot Motion and Trajectory Generation for Physiotherapeutic Juggling in VR
.
IROS2018
, 270-277.
[More]