Synthesis of complex locomotion behavior for humanoid robots based on biological principles
---
Description:
Although locomotion is among the most common and flexible motor behaviours that humans exhibit in everyday life, it is however still one of the most challenging and interesting topic of research in robotics. Koroibot aims to enhance the ability of humanoid robots to walk in a dynamic and versatile fashion, in the way humans do. Our contribution to the project in includes:
studying human locomotion in different challenging scenarios (such walking on slopes, stairs, step stones, on a narrow beam, as well as on hard and soft grounds) and in different biomechanical context and perturbations
advancing unsupervised learning algorithms for the identification of motor primitives and motion segmentation
developing advance dynamic models and controllers for the generation of complex locomotor behaviours for robotics and graphical applications

Koroibot is support by the European Union within the 7th Framework Program under Grant Agreement No. 611909 is gratefully acknowledged. To know more in details about the contribution that our group is providing to the Koroibot project please read on…
Subprojects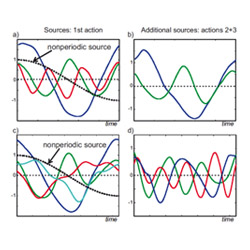 Publications
Chiovetto, E., D'Avella, A. &
Giese, M. A
. (2016).
A unifying framework for the identification of motor primitives
.
eprint arXiv:1603.06879
.
[More]
Ebert, J.,
Mukovskiy, A.
, Dijkstra, T. & Sternad, D (2015).
Why You Don't Spill Your Coffee
.
RISE 2015: Research, Innovation and Scholarship Expo, Northeastern University, Boston, MA
.
[More]
Mukovskiy, A.
, Land, W. M., Schack, T. &
Giese, M. A
. (2015).
Modeling of predictive human movement coordination patterns for applications in computer graphics
.
Journal of WSCG
,
23
(2), 139-146.
[More]
Endres, D., Chiovetto, E. &
Giese, M. A
. (2015).
Bayesian approaches for learning of primitive-based compact representations of omplex human activities
.
In: Dance Notations and Robot Motion. Eds: Laumonde JP, Abe N.
,
11
, 117-137.
[More]
Huber, M., Chiovetto, E., Righetti, L., Schhaal, S.,
Giese, M. A.
& Stenard, D (2015).
From Humans to Robots and Back: Role of Arm Movement in Medio-lateral Balance Control
.
Annual Meeting of Neural Control of Movement, Charleston, South Carolina, 2015
.
[More]
---